28 Bible Verses about God's mercy
28 Bible Verses about God's mercy
Our God is a God of mercy, God's mercy is shown in every Book of the Bible. Below I give 28 Bible Verses about God's mercy
Be merciful (responsive, compassionate, tender) just as your [heavenly] Father is merciful.
But Lot hesitated and lingered. The men took hold of his hand and the hand of his wife and the hands of his two daughters, because the Lord was merciful to him [for Abraham's sake]; and they brought him out, and left him outside the city [with his family].
For the Lord your God is a merciful and compassionate God; He will not fail you, nor destroy you, nor forget the covenant with your fathers which He swore to them.
and forgive Your people who have sinned against You and all the transgressions which they have committed against You, and make them objects of compassion before their captors, that they will be merciful to them
1 Kings 20:31
But his servants said to him, "We have heard that the kings of the house (royal line) of Israel are merciful kings. Please let us put sackcloth around our loins and ropes on our necks [as symbols of submission], and go out to the king of Israel; perhaps he will spare your life."
2 Chronicles 30:9
For if you return to the Lord, your brothers (relatives) and your children will find compassion in the presence of those who led them away captive and will return to this land. For the Lord your God is gracious and merciful, and He will not turn His face away from you if you return to Him."
Nehemiah 9:17
"They refused to listen and obey, And did not remember Your wondrous acts which You had performed among them; So they stiffened their necks and [in their rebellion] appointed a leader in order to return them to slavery in Egypt. But You are a God of forgiveness, Gracious and merciful and compassionate, Slow to anger and abounding in lovingkindness; And You did not abandon them.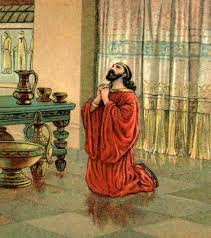 Nehemiah 9:31
"Yet in Your great compassion You did not utterly destroy them or abandon them, For You are a gracious and merciful God.
Psalm 18:25
With the kind (merciful, faithful, loyal) You show Yourself kind, With the blameless You show Yourself blameless,
Psalm 26:11
But as for me, I shall walk in my integrity; Redeem me and be merciful and gracious to me.
Psalm 57:1
[
Prayer for Rescue from Persecutors.
] [
To the Chief Musician; set to [the tune of] "Do Not Destroy." A Mikhtam of David. [A record of memorable thoughts of David] when he fled from Saul in the cave.
] Be gracious to me, O God, be gracious
and
merciful
to me, For my soul finds shelter
and
safety in You, And in the shadow of Your wings I will take refuge
and
be confidently secure Until destruction passes by.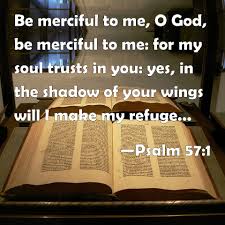 Psalm 59:5
You, O Lord God of hosts, the God of Israel, Arise to punish all the nations; Spare no one and do not be merciful to any who treacherously plot evil. Selah.
Psalm 86:3
Be gracious and merciful to me, O Lord, For to You I cry out all the day long.
Psalm 86:15
But You, O Lord, are a God [who protects and is] merciful and gracious, Slow to anger and abounding in lovingkindness and truth.
Psalm 103:8
The Lord is merciful and gracious, Slow to anger and abounding in compassion and lovingkindness.
Psalm 111:4
He has made His wonderful acts to be remembered; The Lord is gracious and merciful and full of loving compassion.
Psalm 119:58
I sought Your favor with all my heart; Be merciful and gracious to me according to Your promise.
Proverbs 11:17
The merciful and generous man benefits his soul [for his behavior returns to bless him], But the cruel and callous man does himself harm.
Proverbs 14:21
He who despises his neighbor sins [against God and his fellow man], But happy [blessed and favored by God] is he who is gracious and merciful to the poor.
Proverbs 14:31
He who oppresses the poor taunts and insults his Maker, But he who is kind and merciful and gracious to the needy honors Him.
Jeremiah 3:12
Go and proclaim these words toward the north [where the ten tribes have been taken as captives] and say, 'Return, faithless Israel,' says the Lord; 'I will not look on you in anger. For I am gracious and merciful,' says the Lord; 'I will not be angry forever.
Matthew 5:7
"Blessed [content, sheltered by God's promises] are the merciful, for they will receive mercy.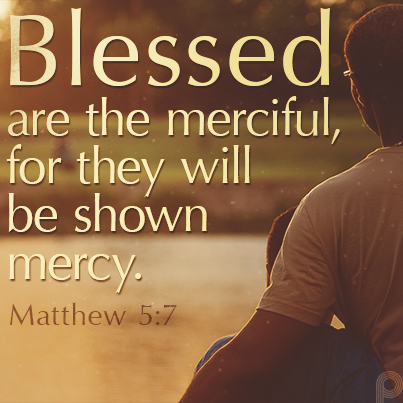 Luke 6:36
Be merciful (responsive, compassionate, tender) just as your [heavenly] Father is merciful.
Luke 18:13
But the tax collector, standing at a distance, would not even raise his eyes toward heaven, but was striking his chest [in humility and repentance], saying, 'God, be merciful and gracious to me, the [especially wicked] sinner [that I am]!'
2 Corinthians 6:1
[
Their Ministry Commended
] Working together
with Him
, we strongly urge you not to receive God's grace in vain [by turning away from sound doctrine and His
merciful
kindness].
Hebrews 2:17
Therefore, it was essential that He had to be made like His brothers (mankind) in every respect, so that He might [by experience] become a merciful and faithful High Priest in things related to God, to make atonement (propitiation) for the people's sins [thereby wiping away the sin, satisfying divine justice, and providing a way of reconciliation between God and mankind].
Hebrews 8:12
"For I will be merciful and gracious toward their wickedness, And I will remember their sins no more."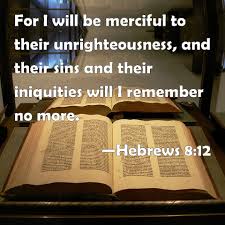 James 5:11
You know we call those blessed [happy, spiritually prosperous, favored by God] who were steadfast and endured [difficult circumstances]. You have heard of the patient endurance of Job and you have seen the Lord's outcome [how He richly blessed Job]. The Lord is full of compassion and is merciful.
See also: