Dear reader, the Lord assigned me to start this website to enable Christians get to know many secrets of the spiritual realm. The first message God gave me in a supernatural vision is summarized in the article showing how Satan gets permission from God to tempt Christians.
If Christians can put most of the knowledge in these Blog articles into practice, it will protect them from the Devil's traps, and from descending into Hell.
In this article I show you something you can do to guard your name from Satanic and demonic manipulations. If Prophet Samuel had done what I am going to tell you during his lifetime, probably the Witch of Endor would have been bombed with heavenly fire if she tried calling Samuel's spirit from the grave (1 Samuel 28).
Satanists and witches can call your name.
During your sleep, Satanists and witches can actually call your name for the purpose of inviting your spirit to manipulate you both in the spiritual and physical worlds. Using this method, distance does not matter to these agents of the Devil. Satan's agents may be in South America and they invite the spirit of someone located in London.  When you are spiritually weak, and your spirit is invited to such meetings, these Satanists or witches can do whatever they want with your spirit and soul. You wake up in the morning with a cursed life.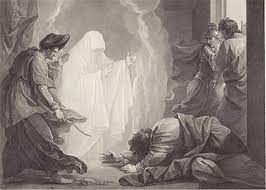 How a witch made a dead person from the grave talk.
Dear reader, you may not believe this, but it happened. In the Bible (1 Samuel Chapter 28), we see King Saul about to loose his leadership. In desperation, Saul went to the Witch of Endor to talk to the spirit of the late Samuel. The witch actually went ahead and called the spirit of Samuel who was already dead in the grave! All the Witch of Endor wanted was to know the persons name! As soon as she knew that the name was Samuel, this witch called Samuel's spirit from the grave for King Saul's interrogation! I declare that this will not happen to you in the Name of Jesus Christ.
Do this to protect your spirit and soul from being manipulated by Satanists and witches.
If you have already made Jesus Christ the Lord of your life, follow the following steps to keep your name covered with heavenly fire. If they  ever try to call your name, I assure you that Satanists and witches will always see fire exploding in their midst.
Write your name on a piece of paper.
Pray the Lord's Prayer.
Lay both hands on your name and pray as follows:
"In the Name of Jesus Christ I cover my name with the Blood of Jesus Christ, and with the heavenly fire of God. I declare that if any Satanist or witch ever tries to call my name in any Satanic meeting, a loud bomb of heavenly fire will always explode in the midst of such a meeting. In the Name of Jesus Christ I pray. Amen".
Your name is now covered with fire.
Dear reader, within the spiritual realm, your name is now covered with heavenly fire. If any witch or Satanist ever tries to call your name during their satanic meetings, your name will explode with a fire bomb that will burn and scatter everyone in that meeting.